Frequently Asked Questions
If you water pump is pumping slowly, or not pumping at all, it is most likely due to a clogged water filter or an air leak from the connections. Read here on how to trouble shoot the problem

Water pump maintenance
.
Keeping the filter clean is critical to diaphragm pumps. A dirty filter will not only restrict the water flow, but also risk passing some debris to the pump itself, which could clog up the valves and cause the pump to lose efficiency. A clogged pump can still be restored to full pressure but it requires a what we call "deep cleanning" procedure, which is time consuming.
We usually ship orders the same day till 3PM EST. Custom orders, including shower hose modification, typically take an extra day. Shipping time depends on your zip code. Click to see

Fedex Ground time-in-transit map
.
You can extend the shower hose to any length using common parts from hardware stores.
You need:
(2) 3/8" brass hose barb splicer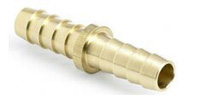 3/8" I.D. 5/8" O.D. braided vinyl hose of whatever length you want to add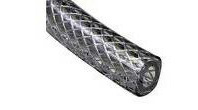 (4) 1/4"-5/8" stainless steel hose clamps

here's how to do it:
1. Cut the shower spayer hose somewhere near the faucet adaptor
2. Insert the new hose in between using the splicers
3. Secure the connections with hose clamps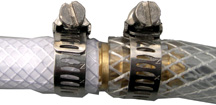 Metals clamps scratch things. If it's a concern, you can replace them with Nylon zip ties like this: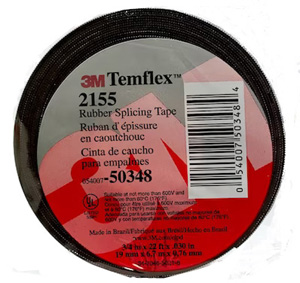 Nylon zip ties have a weakness - they can't tolerate very hot water for very long time.
The best option is a DIY wire hose clamp shown below. We use 0.041" stainless steel wire and a rivet setting tool to make the clamp. It costs next to nothing, pulls uniform pressure all around, and doesn't scratch because of the low profile - a perfect hose clamp.

Unfortunately, no. Pull-out kitchen faucets are a total deviation from standard. Most of them no longer have threaded aerators. Each manufacturer has its own design.
Options are:
1, setup the shower stall as close to the sink as possible. Use the pull-out sprayer directly for shower
2, Find a standard faucet in the house and extend the shower hose
3, Go back to a standard faucet
Yes. We use US Postal Service Priority Mail. Transit time is 7-10 days. We prepay postage and taxes. You receive the package via Canada Post free of charge. We have to pass a portion of the extra shipping cost to you. Contact us to place an order.
Wipe or hand wash with warm water. Do not machine wash.
The internal threads are covered by those rubber washers: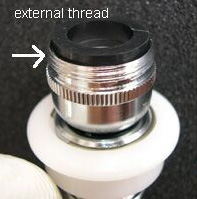 The internal threads are used if the adaptor fits on the outside of your faucet, like the picture below: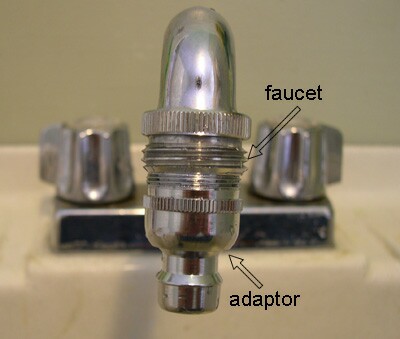 No. The tray looks like plastic, but it's actually made of industrial fabric, which can take truck traffic.
Yes. Hold the plastic ring all the way down, push a flathead screw driver in between the upper and lower pieces and twist: